Evaporator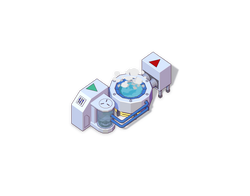 Details
Cost

600

Process Cost

10

Process Time

1
Research
The Evaporator is one of the Basic Machines in Big Pharma.
Description
[
]
The Evaporator boils drugs down into highly concentrated crystals, increasing their Concentration by 1.
Tips
[
]
Using 3 Evaporators is cheaper than using one Agglomerator so if you have the space and time to do so, use 3 Evaporators as it will save you some money in the long run.
Upgrades
[
]
| Level | Research Points | Processing Cost |
| --- | --- | --- |
| 0 | | $10 |
| 1 | 1 | $9 |
| 2 | 2 | $8 |
| 3 | 4 | $7 |
| 4 | 8 | $6 |
| 5 | 16 | $5 |