Ioniser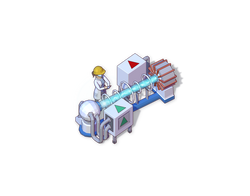 Details
Cost

2200

Process Cost

35

Process Time

1
Research
The Ioniser is one of the Machines in Big Pharma.
Description
[
]
The Ioniser fires beams of charged particles into your drugs, decreasing their concentration by 3
Note that this machine has a higher processing cost than 3 Dissolvers until the second research upgrade of this machine. And that the Dissolver still can be upgraded to be cheaper in total at any of the same upgrade level.
Upgrades
[
]
| Level | Research Points | Processing Cost |
| --- | --- | --- |
| 0 | | $35 |
| 1 | 1 | $32 |
| 2 | 2 | $29 |
| 3 | 4 | $26 |
| 4 | 8 | $23 |
| 5 | 16 | $20 |