Sachet Fabricator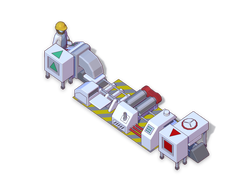 Details
Cost

7000

Process Cost

30

Process Time

2
Research
The Sachet Fabricator is one of the Machines in Big Pharma. Sachets are small packets containing granulated or powdered medication. In most cases, the drug is dissolved in a liquid (typically water) prior to consumption, although some drugs are used as a medicated soak rather than ingested.
Description
[
]
The Sachet Fabricator turns your drugs into neat little sachets which can be sold. Sachets get a bonus for each cure effect in the drug.
Function
[
]
With a 1x4 footprint, the sachet fabricator takes up more linear space than any of the other Maker machines. The benefit of packaging a drug in a sachet is to boost the value of the finished drug: each cure in the drug adds $30 on the base machine, and $55 on a fully upgraded fabricator.
Upgrades
[
]
| Level | Research Points | Sachet bonus per cure |
| --- | --- | --- |
| 0 | | $30 |
| 1 | 1 | $35 |
| 2 | 2 | $40 |
| 3 | 4 | $45 |
| 4 | 8 | $50 |
| 5 | 16 | $55 |